Key to the door of child's life destiny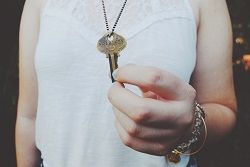 During its development, a child meets many people, who influence his life. For the most of them, the parents are the most important. Mother and father. These parents hold the golden key in their hands to (un)lock particular doors to the life journey of their kids.
The parents have a huge responsibility for the future of their children, which begins to form in the early years of their lives. Parents are not able to influence the whole life of a child but they decide about the concept of its upbringing in the family and form the basis of its personality and direction.
I had the opportunity to discuss these and other important topics during a meeting with leading Czech scientist in the field of anthropology and genetics, Doc. RNDr. Petr Sedlak, Ph.D., from the Faculty of Science of Charles University in Prague. Now, I'd like to share it with you.